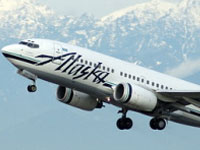 Tired of the same early-fall road trip together with your friends? Perhaps this time around you will make a change of plans and fly to a vibrant city across the country. Indeed, nature in autumn has its particular charm and yes, everyone has their favorite destinations, but you should try something new every now and then, especially at present when it's cheaper than you thought to fly in between the cosmopolitan cities.
Take the new Alaska's deal for example: they came up with these incredible prices for domestic flights featuring destinations such as, Los Angeles, San Jose and Seattle starting at $29 one-way or $58 round-trip and flights to summer hotspots like Mexico with prices starting at $218 roundtrip. Now, do you instantly feel like going city-hopping?
More precisely, for those of you flying from Sacramento, CA to San Jose, CA a roundtrip ticket is worth $58 while those of you travelling from Chicago, IL to Seattle, WA will have to pay $218 for a roundtrip journey. Moreover, the airfare for a roundtrip journey from Washington, D.C. to Los Angeles, CA starts at $218 and you will have to spend the exactly amount of money if your plan is to land on a golden beach in Los Cabos, Mexico, travelling from Portland, OR. This deal is valid from September, 14 through February 10, 2010 and you have to book your ticket(s) by September 10, 11:59 PM PT. Moreover, the flights are not available in some particular days of the week, so you should go directly to Alaska's Deals Page to get further reference.