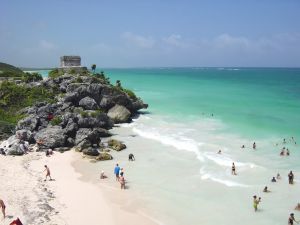 They say it is the best to plan your travels and vacation as much ahead as possible. If you are planning on taking a few days out and have not found the right place and hotel yet, check what we have found you: a great hotel offer on a Mexico beach, with all inclusive service and for an amazing price.
Bookit brought this great new hotel deal if you're up to a beach vacation in Cancun. It costs only $139 per night per person instead of the original $220 price and your kids stay and eat free. If you want a room with ocean view, you only have to pay $10 more and you also get a $120 free in resort credit. Isn't it amazing? The only bad thing, the deal expires at midnight, so you must hurry up if you want to catch it!
Looking for a cheap hotel elsewhere? Or this deal's dates don't correspond with your vacation plans? Look for more offers on Travelgrove's cheap hotel search, just introduce your destination city, your check-in and check-out dates, hit search and browse among a lot of offers, different services and from many different providers to find the hotel you like the most.