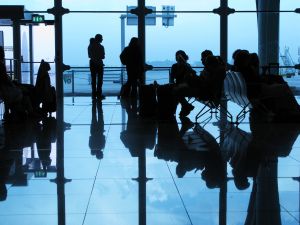 When is an airport not an airport? When it's a shopping centre, restaurant or beauty salon, that's when. Staying in hotels near Gatwick Airport means you'll be able to take full advantage of the airport's ample facilities before you fly.
Airports are much more than just places to board planes. They're that other-worldly place that begins your hard-earned holiday; almost like a mystical bridge between home and away.
For many, the excitement builds as they approach the airport and see the planes flying overhead, putting them instantly in the holiday mood.
There are good UK hotels within easy reach of whichever airport you are flying from. Choosing to stay in an airport hotel the night before you fly offers you the ultimate in convenience.
Forget about setting your alarm for four in the morning before rushing around frantically to get to the airport on time. Forget having to set off hours early just in case you hit traffic. Forget that nagging feeling that in your rush you've, well, forgotten something.
When you stay in an airport hotel you will have plenty of time to spare to enjoy what the airport has to offer. Airports are one-stop shops designed to get you into the perfect holiday mood.
Gatwick airport has some great shopping opportunities. Why not spend some time perusing the fashions in trendy All Saints, Superdry, Ted Baker or Fat Face and pick up the perfect outfit for holiday evenings out?
Accessorize is a great store to pick up items to complement your holiday wardrobe. A treasure trove of every kind of fashion accessory, including top quality jewellery, purses and handbags, Accessorize has something to suit every style.
Flip flops, swimwear and sarongs make great last minute holiday purchases, particularly if you are keen to travel light.
Boots is the classic everything under one roof store in which to pick up all your last minute holiday essentials; from sun cream to sunglasses, you'll find everything you need in Boots.
Another great thing about airports is duty free shops. Magical places where goodies are miraculously free of tax, the duty free store is the perfect place to pick up a treat or two at a reduced price.
When you've worn yourself out shopping, you need refuelling and refreshment. Most UK airports have a variety of dining options to suit all budgets, from fast food to fine dining.
At Gatwick, for example, you can begin your holiday in style with a meal at Café Rouge or the Caviar House and Prunier Seafood Bar. Those travelling with children might prefer a fun dining experience at the Giraffe restaurant.
Those who like to start as they mean to go on may enjoy a relaxing drink while they wait for their flight to board. With everything from premium coffees to fruity cocktails, top quality wines and good old-fashioned pints available, who could possibly resist?
Resistance really is futile when it comes to enjoying the airport experience. Anyone about to jet off on holiday is bound to be in a cheerful mood, and the airport experience will enhance that even further.
Apart from shopping and eating, there are many other ways to pass the time at the airport. Those who enjoy the finer things in life may want to treat themselves to a lounge pass.
Lounge users will usually be able to enjoy comfortable seating as well as complementary food and drinks, making spending time in the lounge a great way to start your holiday.
Many airports also have hair and beauty facilities for those who want to look their best on holiday. Why not let the stress melt away with a relaxing massage, and get your feet flip flop-ready with a pedicure? That way you can step off of that plane looking and feeling great.
Should you want to extend that holiday feeling even further, why not consider staying overnight in the airport's closest city the night before your flight? That way, you can enjoy all that that city has to offer with a mini holiday before your holiday.
Those flying from London airports might want to check out London luxury hotels in order to begin their holiday in style. What better way to shake off the stress of the everyday with a fun night spent in our capital city?
Choosing to stay the night in a city or airport hotel is a great way to extend your holiday and experience that magical holiday feeling for longer.
Related Posts