Step 2













Step 3
add 2 more
Click on the logos to add more sites to the airline ticket search!
Attention:
Turn off pop-up blockers

Cheap Airfares & Airline Tickets
Why cheap airfares ? It's already starting to sound a bit like a cliché mentioning the economic crisis in everything that's travel related, but the truth is, these generally unfortunate times are sometimes fortunate for travelers, as cheap airfare offers are constantly dwindling, in an attempt from airline companies to attract more of the few travelers around the World. Admittedly, when you say 'cheap airfares', you don't think of quality travelling. Here at metafares.com we try to bring you the best of both ends of the price-quality spectrum when searching for airline tickets. Our partners are some of the largest travel companies in the World and since we're handling offers from pretty much any major player in the travel field, rest assure we can help you find the cheapest, best quality airfare deals on the Internet.
Recent travel blog entries

Last time we brought you a Kauai flight deal, this time our deal hunters have found an airfare from Boston to Maui for $598 r/t including taxes. Fly in late November with major airlines such as United Airlines or Delta Airlines and save over $150 on your Maui flight compared to the other airlines...

This time we have found you the means to visit the amazing capital of China for less: a cheap flight  from Chicago to Beijing. Book now and fly with Air Canada in mid November to save over $200 on your ticket compared to the other airlines we have checked.We have found the Beijing flight deal...

Whether you have some business to attend to in the iconic Texan city or you want to spend a few relaxing days in the city of cowboys, you will find this Atlanta to Dallas flight for $129 r/t very useful! Fly in December with American Airlines and save on your Dallas airfare. Check Travelgrove...

Already tired of being back to the 9 to 5 life? Why not take advantage of this freshly found Philadelphia to Kauai flight for $747 r/t and spend a few amazing days in Hawaii. Fly in mid November with American Airlines and pay nearly $70 less than on any other airline. The Kauai flight deal was...

With this cheap coast to coast flight we have found for you, you can fly to a week long casino vacation in Vegas for $279 r/t with taxes. Book a flight with US Airways and fly from Washington to Las Vegas for less. You can find this Las Vegas flight deal on Travelgrove as well as Faregeek, but...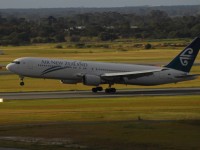 This weeks best travel deals have many surprises again including Australia flights from $1,498 r/t including taxes. Book by October 1 and fly with Air New Zealand from October 26 to December 7 in 2014 and from March 15 to June 8 in 2015. Melbourne, Sydney, Adelaide, Perth and other cities are...