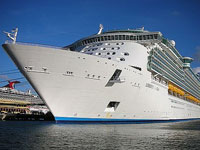 ATTENTION! These cruise deals were posted in 2010, and are no longer available, but in the below table you can find loads of freshly picked cruise deal to the top cruise destinations of the world: Caribbean, Europe, Alaska and more.
Find a cruise vacation for the whole family, or a romantic one for you and your partner and enjoy all amenities of a great cruise ship:
Best cruise deals to top destinations
Travel Deal
Price
Caribbean
7-Day W. Caribbean Cruise on MSC Divina
$400
Bermuda
5-Day Bermuda Cruise on Royal Caribbean
$475
Alaska, US
7-Day Alaska Cruise on Holland America
$549
Caribbean
7-Day E. Caribbean Cruise on Celebrity
$564
Alaska, US
7-Day Alaska Cruise on Celebrity Millennium
$589
Caribbean
7-Day E. Caribbean Cruise on Holland America
$599
Bermuda
Week-long Bermuda Cruise on Celebrity w/Credit
$734
Peru
15% Off Mekong, Amazon & Burgundy Riverboats
$748
Europe
30% Off Last Minute Riverboat Adventures
$748
Caribbean
11-Night Caribbean Voyage, Save 50%
$799
Caribbean
6-Day E. Caribbean on Azamara Quest
$824
Caribbean
7-Day E. Caribbean Cruise on Windstar
$929
India
30% Off Ganges Riverboat Adventures
$1,329
Hawaii, US
15-Day Hawaii Cruise on Grand Princess
$1,479
Caribbean
7-Day Cuba Cruise on Oceania Insignia
$1,549
It is quite amazing what you can achieve with a little advance planning these days! Deciding to book your vacation in advance can sometimes help you save more than half of its initial price – and this rule is more truthful than ever when it comes to cruises. Cruisedeals.com are now listing their picks on best cruises that are under 7 nights. For those looking forward to spending an extended weekend at seas, aboard some luxury ship belonging to Royal Caribbean, Celebrity Cruises or Carnival Cruises, cruisedeals.com comes with some irresistible offers.
The price of short voyage along the American coasts can start at only $172 (not only will this Bahamas cruise take you through the Caribbean for 4 days, but you will also get $75 on board credit). If you are looking for something different, the The 4-day Canada cruise aboard Carnival Glory departing New York (inside cabin from $299) is a decent alternative.
Related Posts