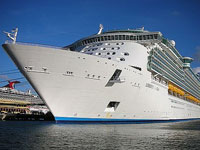 ATTENTION! These cruise deals were posted in 2010, and are no longer available, but in the below table you can find loads of freshly picked cruise deal to the top cruise destinations of the world: Caribbean, Europe, Alaska and more.
Find a cruise vacation for the whole family, or a romantic one for you and your partner and enjoy all amenities of a great cruise ship:
Best cruise deals to top destinations
Travel Deal
Price
Europe
Mediterranean Cruises incl. Spain & France
$139
Bahamas
3-Day Cruise to the Bahamas on Carnival
$179
Mexico
4-Day Mexico Cruise on Carnival Inspiration
$199
Bahamas
Bahamas: Weekend Cruises on Norwegian w/Extras
$199
Mexico
4-Nt Mexican Cruise on Carnival Ecstasy
$219
Mexico
Oceanview: 4-Night Spring Baja Mexico Cruise
$229
Mexico
4-Day Mexico Cruise on Carnival Ecstasy
$249
Bahamas
4-Nt Bahamas Cruise on Norwegian Sky
$249
Mexico
4-Nt. Carnival Cruise to Key West & Cozumel
$299
Caribbean
$299 & up -- 4-Nt. Carnival Cruise to Key West & Cozumel
$299
Mexico
5-Nts Mexico Cruise on Carnival Elation
$319
Caribbean
6-Nt W. Caribbean Cruise on Carnival Conquest
$369
nationwide
7-Day W. Mediterranean Cruise on Costa
$389
Caribbean
7-Day W. Caribbean Carnival Cruises
$409
Canada
7-Night Canada & New England Cruise on Carnival
$459
It is quite amazing what you can achieve with a little advance planning these days! Deciding to book your vacation in advance can sometimes help you save more than half of its initial price – and this rule is more truthful than ever when it comes to cruises. Cruisedeals.com are now listing their picks on best cruises that are under 7 nights. For those looking forward to spending an extended weekend at seas, aboard some luxury ship belonging to Royal Caribbean, Celebrity Cruises or Carnival Cruises, cruisedeals.com comes with some irresistible offers.
The price of short voyage along the American coasts can start at only $172 (not only will this Bahamas cruise take you through the Caribbean for 4 days, but you will also get $75 on board credit). If you are looking for something different, the The 4-day Canada cruise aboard Carnival Glory departing New York (inside cabin from $299) is a decent alternative.
Related Posts